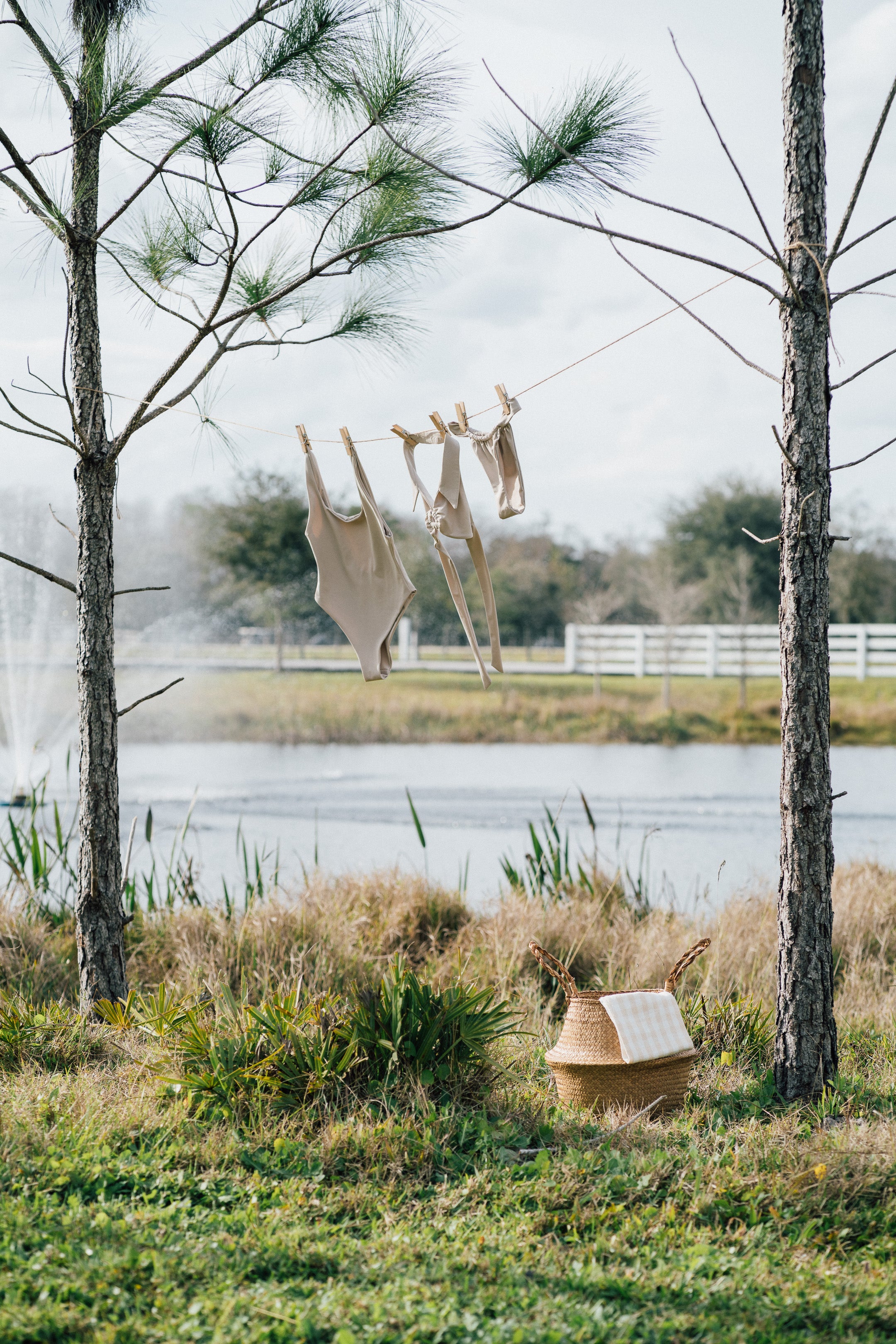 Sustainability
Our goal is to be in a constant state of growth, not just within, but also with our community. Part of "growing" is simply being better than you were the day before. We aren't perfect in everything we do, we haven't "perfected" our environmental impact, but we are striving to take every step we can in this moment to be better… for ourselves, for you, and for Mama Earth.
Our Materials
We provide eco-friendly paper hygiene liners instead of plastic
All of our printed styles, are printed with eco-ink and using sustainable fabrics.


CARVICO VITA:
These are used for all printed fabrics. They are created using sustainable techno-fabric, made of a ECONYL® regenerated Nylon that turns waste problems into fashion.
COMPOSITION:
78% Recycled PA, 22% EA


RENEW FOLK:
All of our white fabrics are made of this ECONYL®, a regenerated polyamide yarn from pre-and post-consumer waste materials, producing an elegant and functional glossy, ribbed structure.
COMPOSITION:
90% Recycled PA, 10% EA

RENEW SHINE:
Our orange and blue bikinis are made of ECONYL®, a regenerated polyamide yarn from pre-and post-consumer waste materials.
COMPOSITION:
82% Recycled PA, 18% EA
The Factories We Work With
In efforts to reduce our carbon footprint, as of 2023, all of our production is proudly made locally in Miami, FL.

All of our previous swimmies are made in Bali, Indonesia with an ocean of love at an ethically certified factory. From every bikini bought, our factory donates to grassroots organizations that support the environment, women's access to education and those in need. We donate proceeds to ROLE Foundation and BALI WISE.

10 cents per bikini produced is donated to ROLE Foundation.
Our Packaging
All of our packaging is chosen and conducted with the well-being of Mama Earth in mind. 

ZERO-WASTE

Mailers:
Our mailers are recyclable, & biodegradable, made from 100% recycled materials. Made in the USA!

Love Letters:
With each purchase you receive a love letter from G with a message to be passed on. By doing this, we encourage spreading a positive vibe all around your community. This is our way of inviting you to grow with us, get out of your comfort zone, and be awesome. 
Not trash. Pass it on.
Read more about our love letters HERE.


Seed Paper Flyers:
Our one and only flyer is handmade from 100% recycled paper and is infused with wildflower seeds. It is biodegradable, non-invasive and non-GMO seeds, and there are no dyes or chemicals used in production. Made in the USA.


GROWING INSTRUCTIONS
STEP 1: Plant under ¼"of soil in your flowerpot or garden
STEP 2: Keep it moist & water daily
STEP 3: Tend to it with love
STEP 4: Watch it grow!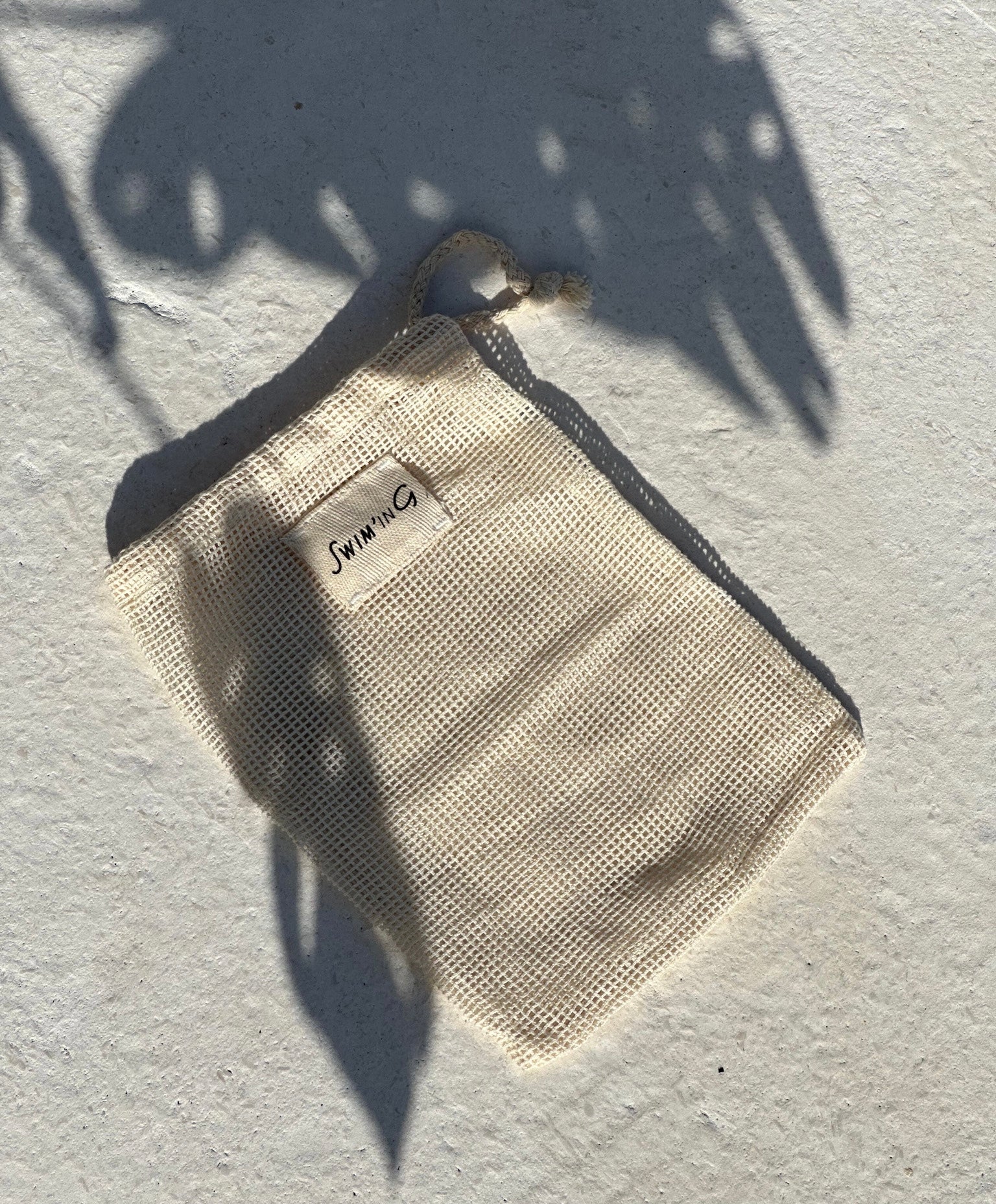 Swim'in G Bag
In every package, you receive your swimmies bundled up in a Swim'in G cotton mesh bag.


Our favorite ways to reuse them:
- For storing your swimmies or other belongings
- Travel plans
- Picking up trash you find 
- Air drying your swimmie
Shipping
We offer worldwide carbon neutral shipping. Partnering with EcoCart and the Offset Program provides each of you the chance to offset carbon emissions and lessen our global footprint. 
We like to put this choice in the customer's hands, so you too can have a sense of pride that you're making a difference in the world.